When you're at Myrtle Beach, there are tons of things to do Myrtle Beach this weekend. This beach is your playground with over 60 miles of sand, sun, and the sparkling Atlantic Ocean.
The fun reaches beyond our borders to over thousands of activities and attractions.
10. Shopping at Myrtle Beach Mall
We picked out the coastal grand mall. it's one of our favorites. it's a great place to shop but there are several other selections around town for great places to go shopping.
The coastal grand mall opened its doors in 2004 originally. The owners were going to call it Mall of South Carolina before settling on the Coastal Grand Mall.
It's the largest mall in Myrtle Beach and the second largest in the state of South Carolina. It offers around 150 stores and a movie theater.
It also has an outside entertainment pavilion along with a large food court. We checked out the rather powerful massage chairs which are available for a dollar.
There's an arcade area for the kids. it looks like a lot of fun and other kid-friendly activities are also available throughout the mall.
Bring some good walking shoes as it's a very large mall and you could easily spend several hours here checking out all the stores.
See Also – Best Beach Resorts in the USA – Top Beach Resorts List
9. Wheels of Yesteryear Museum
At Wheels of Yesteryear Museum showcase classic cars and trucks and muscle cars.
Their slogan is the muscle at the beach. We took a stroll down memory lane at the Wheels of Yesteryear.
The museum opened on the last day of September in 2009. Admission is at 10:50 but we found a coupon on myrtlebeach.com for $1 off per person on the website.
It says they've had visitors here from all 50 states as well as more than 20 countries.
All of the vehicles on display are part of the private collection of Paul and Carol Cummings and there are some cool cars at the Museum.
What are the interesting things about this place is there a lot of science? All most of these vehicles that kind of let you know something about them.
Here is an interesting 1971 Hemi Cuda car. There were only 11 of these cars ever made.
The main reason was that the Hemi engine boarded the factory warranty on the vehicle and also because the payments on the insurance for the car could be more than the payments for the car itself.
But now this car could have a value according to this magazine of somewhere in the neighborhood of two million dollars.
The collection is about five decades in the making and some of the cars date back to the 1940s.
There's also a gift shop on-site with tons of cool stuff you can buy before you head out when you're Myrtle Beach.
See also – Top 10 Things to do in Miami Florida – What to do in Miami
8. The Mini-Golf Capital of the World
You gotta check out the mini-golf courses. This place is known as the mini-golf capital of the world.
They have some of the most beautiful wonderful mini-golf courses you're ever gonna see.
We choose Treasure Island Golf for our adventure today. I wasn't sure I'd enjoyed this activity too much but once I nailed a hole-in-one I was hooked.
We had so much fun, there are more than 50 mini-golf courses over a stretch of 30 miles in Myrtle Beach, where the golf season lasts almost ten months out of the year.
There are more mini-golf courses in Myrtle Beach than any other place in the United States per square mile.
Today the mini-golf owners try to outdo one another by reinvesting their profits to make their courses better.
The cost to build a mini-golf course here can run into the millions of dollars.
Many of the more modern courses in Myrtle Beach sit on top of the remains of the previous courses.
See Also – 7 Best Honeymoon Destinations in the USA
7. Lulu's Beach Arcade
Let's get in there and have some fun. Lulu's has tons of fun games with pricing starting at $20 to fill up your game cart.
You can try some basketball, Spinning a big wheel for surprise ticket, their version of ski ball which they call freeze ball and of course try your skill with a robotic claw to try to grab a prize.
Once You won some prize tickets you choose to offer a nice selection of prizes to choose from.
See Also – Best 10 Dubai Beaches – Public, Private & Secret
6. Second Avenue Pier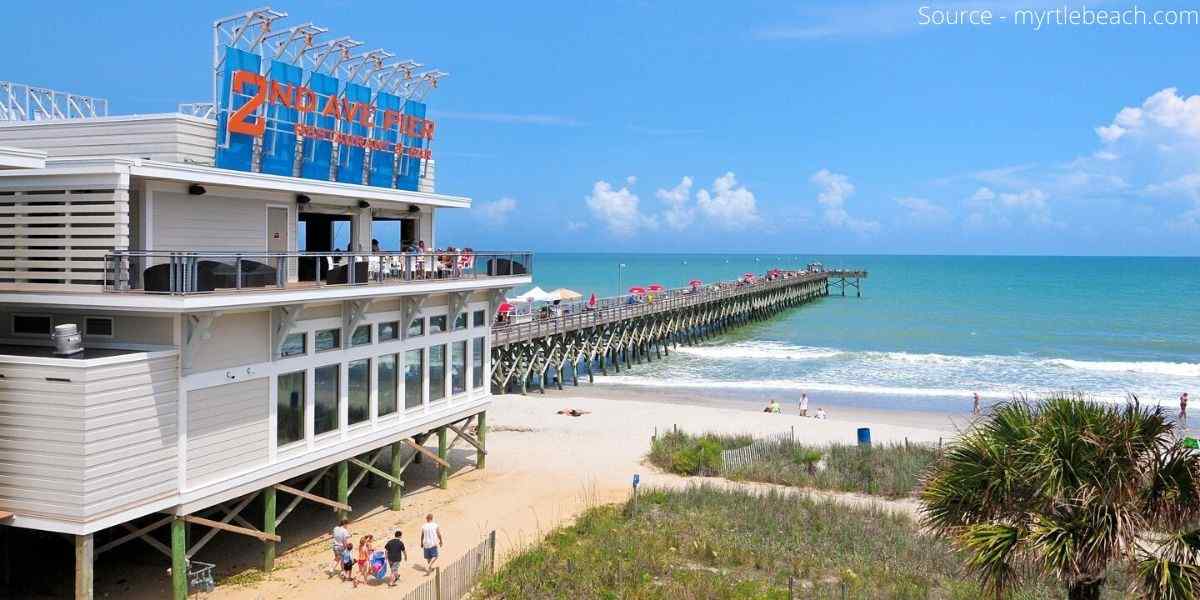 This is the furthest act you can get into the Atlantic Ocean here in Myrtle Beach unless you're on a boat or a plane.
The Second Avenue Pier was originally built in 1936 however it has had to be rebuilt twice due to damage from Hurricane Hazel in 1954 and Hurricane Hugo in 1989.
There's an admission fee of $2 to get out on the pier however there is a buy one get one free coupon available at myrtlebeach.com.
It's a great place for fishing and offers some beautiful views of Myrtle Beach.
See Also – All-Inclusive Resorts in Hawaii – Best Hawaii Resorts
5. Twenty Dollar Helicopter Ride
Take a helicopter ride with oceanfront helicopters located at the Myrtle Beach Airport.
It's the oldest helicopter company in Myrtle Beach and has a perfect safety record over 20 years since it's only a block from the ocean.
All nine of the flight options include going over the ocean which is the main reason we chose this place so we could opt for the $20 ride and still get to go over the ocean.
The stunning views from above the skyline and ocean and getting to take helicopter ride made this well worth the money.
See Also – All Inclusive Resorts in Florida- Best 10 Resorts
4. Ripley's Aquarium
There's Ripley's mirror maze, believe it or not, haunted adventure and movie theater in Ripley's Aquarium, which is most favorite.
The aquarium is South Carolina's most visited and regular place.
Admission tickets are $30 for adults, in between 10 and 20 dollars for kids, however, you can almost always find coupons and deals for various Ripley's attractions online.
There are more than 10,000 exotic sea creatures at the aquarium including one of the biggest collections of giant sharks on the East Coast.
There's also an underwater tunnel where you can get a close look at all the sea life. There's plenty to do here for many hours and it's a great way to spend the day.
See Also – Where Is My Passport Book Number? – Facts About Your Passport
3. Barefoot Landing
Everybody loves this place. It sits on a giant lake in which all kinds of fish and different living things in the lakes and turtles.
There are also things for kids to do here. There are a great playground and an arcade. Just lots of fun stuff, lots of shops and restaurants.
Barefoot Landing offers beautiful views in tons of unique and fun stores to shop at. There's also a neat little area where you can hang out and listen to live music.
An interesting piece of history is this property is a former bombing gunnery range while construction was underway building Barefoot Landing multiple unexploded bombs were found underground, they were safely disposed of.
See Also – Best time to visit Vietnam 2020 -Vietnam Travel Guide
2. Myrtle Beach Skywheel
This one is 187 feet tall when it opened in 2011. It was the second tallest Ferris wheel in the whole United States right now.
It is the tallest Ferris wheel on the East Coast, there are 42 of the climate-controlled gondolas which can seat of the six people, however unrelated people never have to sit together.
Admission is $14 for adults and $9 for kids for one flight which consists of four revolutions.
The views are stunning from all different heights and angles of the sky wheel and being surrounded by glass gives you a chance to get great videos and photos while you're on it.
As a matter of fact, in 2012, officialbestof.com named it the best scenic experience in all of South Carolina.
1. Myrtle Beach
This place is awesome. There's all kinds of stuff – all kinds of attractions, rides, the Ripley's Aquarium, bars, restaurants, shops, and things to do Myrtle Beach this weekend for people of all ages.
You can spend an entire day just enjoying Broadway at the beach. Broadway at the beach open on the 4th of July in 1995 and sits on 350 acres right in the heart of Myrtle Beach.
250 million dollars to build, there are more than 100 unique shops here plus more than 20 restaurants.
Approx 15 million people visit it every year.
Ready to Plan Your Myrtle Beach Getaway?
Do you know when you'd like to visit Myrtle Beach? If so, start planning your beach vacation today.