The USA is home to some beautiful beach resorts with over 12000 miles of coastline. It's summer & time to start planning your family beach vacations or couple vacations. The best seaside resorts offer great activities for all ages because they know how to keep you happy.
Fortunately, by doing some internet research, you can find some beautiful, more affordable beach resorts in the USA. Some of these season resorts offer the best wedding destinations in the US.
Best Beach Resorts in the USA
This is a 5-star Montage Laguna Beach resort. one of the beachfront bungalows or villas. 30 acres of beachfront features two outdoor pool deck. And 20,000 sqr feet spa and 3 signature restaurants with breathtaking views of the California coast vacation spot.
There are three swimming pools for comfort, one faces the Pacific Beach ocean and has cabana rentals. There is also a restaurant and grill on-site. Also a relatively amazing spa and beautiful shops, including an art gallery.
Address: 30801 South Coast Highway, Laguna Beach, California
2. The Kahala Hotel & Resort, Oahu
In Hawaii, the Kahala Hotel & Resort is a top 5-star property in the state, located in Honolulu's opulent Kahala district. It is the best vacation spot for royalty families, celebrities. This one of the best beach resorts is on a beautiful pacific beach just 10 minutes from downtown Waikiki.
They offer beautiful room configurations, with some luxury suites with designer furniture and heavenly living space. Surfing lessons are offered to guests for free.
You can have fun with the best amenities like a spa, swimming pool, and gym on the grounds.
Address: 5000 Kahala Ave., Honolulu, Oahu, Hawaii
3. The Ritz-Carlton, Fort Lauderdale
The Ritz-Carlton is a top US private beach for vacation spots. Especially popular with couples and young peoples. There is a fantastic spa here and, mid-level rooftop swimming pool with amazing hot tubs. There are also lounge chairs right on the beach seashore and a few dining spots. The rooms and suites are spacious and luxurious.
4. The Lodge at Gulf State Park, Hilton Hotel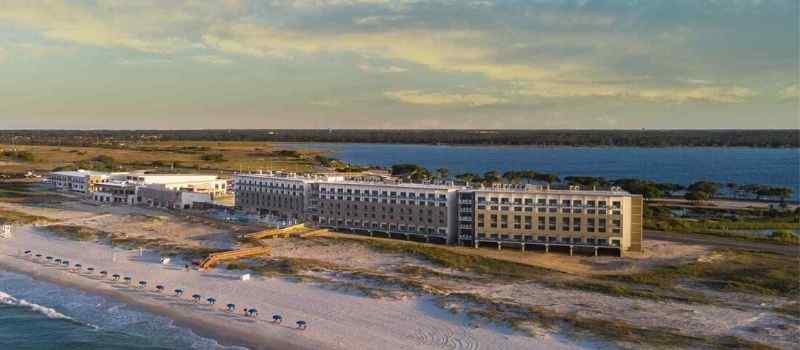 You can go anywhere. So why choose The Lodge at Gulf State Park for your vacations? Because when you're here, you become a part of something bigger than yourself.
Gulf State Park is about a 6150-acre beach area. Hilton resort is on a white sand beach overlooking the Gulf of Mexico. There are amazing rooms and suites in various options and packages. There are some suites with bunk beds if you traveling with kids.
5. The Setai, Miami Beach, FL
The Setai, Miami Beach is an award-winning situated ocean-side in the heart of Miami's most desirable location in South Beach. An international leader in hospitality.

The Setai offers great hospitality with personalized service to create a memorable experience. The Setai has 87 Art Deco rooms and 50 Ocean Suites with oceanfront suites and The Penthouse.
6. The Surfrider, Malibu, California
Malibu Surfrider Beach is the world-famous sandy beach and beautiful surfing point between the Malibu Pier and the Malibu Lagoon.

Surfrider Beach is a part of Malibu Lagoon State Beach. Surfrider Beach is famous for surfing waves for riding, and with a super long right-hand break, it's an accurate name.
The Malibu Sport Fishing Pier is a convenient place to hang out and nice views.

Malibu Farm has a restaurant at the entrance and a cafe at the end. A volleyball court at the dock and lifeguards are here during peak times to watch for kids and swimmers.
There is a separate area for swimming and surfing.
7. Four Seasons Resort Lanai, HI

Lanai Island is a 45-minute boat ride from Maui.
The Four Seasons Resort is super expensive with a great location facing Hulopoe Bay.
Four Seasons Resort Lanai is one of four Hawaiian Four Seasons resorts which has a golf course.
The resort was built with a 7,039-yard championship premier golf course.

The beach in front of the hotel is part of a protected marine preserve and there is great snorkeling just offshore.
The rooms and suites are equipped with five-star luxuries.
Four Seasons Resort Lanai was ranked the third-best golf resort in Hawaii.
Some other facilities include spa services, on-site dining options, including an outpost of Nobu, two lagoon-style swimming pools with sea views, and fitness facilities.
8. LaPlaya Beach & Golf Resort

Florida beach is known as the town of Naples. It is famous for its luxury shopping places, top restaurants, and beautiful white-sand beaches.
The sea-green shades of the Gulf of Mexico, La Playa Beach & Golf Resort is making this beach even more beautiful.
The luxury property has a bright effect, beachy vibe and modern styling everywhere.
Rooms and suites are bright and spacious with heavenly comfortable beds.
In the suites, you will notice great art and Jacuzzi bathtubs.
Property comforts include a lovely swimming pool surrounded by waving coconut palms, a comfy zen spa, a gym, and an 18-hole golf course.
You'll also find a seafront restaurant next to it and that is great for chilly nights. If your kids are on vacation with you, there is a kids' club.
9. The Breakers, Palm Beach, Florida

The Breakers is one of Florida's most iconic and historic hotels.
The resort in Palm Beach has embraced prosperous snowbirds for over a century.
The resort is perfected with a private beach club, two championship golf courses, 10 tennis courts, nine restaurants, a spa, a chauffeured Tesla service, and much more.

The Breakers is a spot of luxuriousness. The luxurious interiors are worth the detour.
The 200 feet long main lobby improved after the majestic Villa Medici in Rome, is a vision to observe.
10. The Sanctuary Hotel, Kiawah Island Golf Resort

This luxurious resort 21 miles from downtown Charleston located on the beach offers hotel, villa, and resorts.
South Carolina is known for its beaches and golf resorts, and at the 5-star Sanctuary Hotel at Kiawah Island Golf Resort, you'll get the best of both.
The luxurious hotel rooms feature custom beds, antique furniture, Italian marble bathrooms, seashore view balconies and free WiFi facility that reaches the beach.

Comforts include 12 dining venues, from orderly steak and seafood restaurants to a poolside barbecue.
4 indoor and outdoor swimming pools, a beach, spa, fitness center, golf courses, shops, and conference amenities.
You will also like