As the Corona Virus spreading worldwide, the risk for every life is increasing along with it. So, as precautions Governments of all countries which are suffering from corona took some hard decisions. And for the safety of mankind, all peoples have to obey these rules otherwise they put themselves and their family in great danger. Now you probably thinking about things to do at home in Quarantine.
Self-quarantine is a precautionary action. It's a way to keep somebody who might have been exposed to an infectious disease from transmitting it to others. In other words, quarantine is a precaution, we use for patients who aren't sick but may become sick.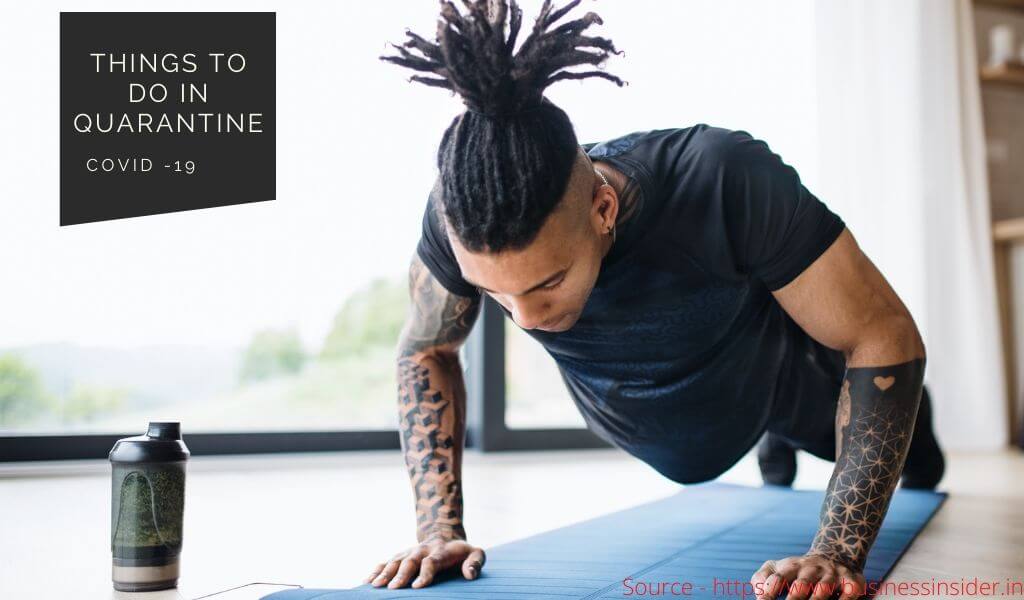 We just made a simple and healthy list of things to do at home in Quarantine.
Stay Active
You are at home and can not go to the Gym and there are many simple ways to work out at home with the use of your own body. There are a variety of powerful body-weight exercises that can help you stay active while you at home for weeks and build strength, stamina and burn calories. And by these pieces of training, you keep your heart rate up, burn more calories and get the most out of your exercise time.
How to choose a Workout at home:
Choose your workout — Cardio, muscle training or a mixture of both.
Choose different exercises — For cardio, focus on exercises with different levels of energy. For example, you can choose a high-intensity exercise (such as jumping jacks or burpees) with an easier move (such as marching in place). For strength training, choose pushes, pulls, front-of-leg, back-of-leg, and core movements, such as squats, lunges, pushups, and dips. Exercise ideas: Step by Step Cardio Exercises, Step by Step Body-weight Exercises
Choose the length of each exercise — Starters should start with 10-30 seconds or 8-16 reps, while intermediate or advanced exercisers might go for 60-90 seconds or 20 or more reps.
Get Ready — Set up a timer or use a stopwatch, turn on some music and start warm-up your muscles.
The Workout — Do 1 circuit if you're a starter or do for a short time. Do 2-5 circuits for a more extreme workout.
Sample Cardio Circuit Workout (No Equipment)
1 min: March in place — Lift the knees high and swing the arms
1 min: Jog in place, pushing the arms overhead
1 min: High knees
1 min: Slow, controlled Plyo-jacks
1 min: Regular jumping jacks
1 min: March in place
1 min: Skaters
1 min: Mountain climbers
1 min: High knees
1 min: March in place
Sample Strength Circuit Training (No equipment)
1 min: March in place to warm up
Squats — 20 reps
Reverse lunges — 12 reps on each leg
Pushups (on the knees or toes) — 10-12 reps
Dips — 10-12 reps
Walking lunge with arms overhead — 10-12 reps
Lateral leg lifts
Glute bridge
No matter where you work out, keep hand-washing, getting plenty of sleep, and eating healthy
Stay Positive
Focusing on positive energy is more than smiling: it is the ability to remain optimistic and view one's situation from a valuable aspect. While the Coronavirus makes happiness a challenge, there are things you can do to stay positive:
Limit fake social media and news reach to your lives. Read a book once a day to keep informed and so that you are not regularly attacked with bad or fake news – switch off your news feeds, talk radio and email alerts.
Appreciate your home this time and those who are with you. Make a daily list of things in and around your home for which you are grateful.
Properly enjoy your coffee or tea breaks. Now you can have an excellent opportunity to have proper conversations, face-to-face or remotely – point the conversation away from Coronavirus or agree at the start that you are not gonna talk about Coronavirus topic.
Share the joy and happiness to others in your home.
Give a hand on daily tasks such as cooking and look for the joy in preparing something, however simple thing to do at home in Quarantine, for others and yourself.