Dubai is not only famous for skyscrapers and sandhills. Dubai beaches are the world's most exotic vacation spots. Established on the tip of the Arabian Gulf, this destination is also a paradise for beach lovers. With pleasant weather from October to May, Dubai's natural beaches have become one of its top tourist attractions.
Take your family to cool beach waves, white sand beaches, private clubs of Dubai, and top spots for surfing and watersports in our list of the best beaches in Dubai.
1. Kite Beach, Public Seashore
Five-minute drive to the north and you reach to Kite Beach. Here you can find plenty of attractions for kids and adults as well.
At Kite beach, you have a lot of options to eat. There are plenty of restaurants and small markets so you can choose from a lot of different kitchens and then you have a changing room as well with the showers.
In the back you can do some watersports here, it's really huge and there is a mosque you can see Burj Khalifa from here as well.
You can go to a helicopter for like 1,250 pounds personally. Well, it's not something like to go for the most expensive ticket in Burj Kalifa.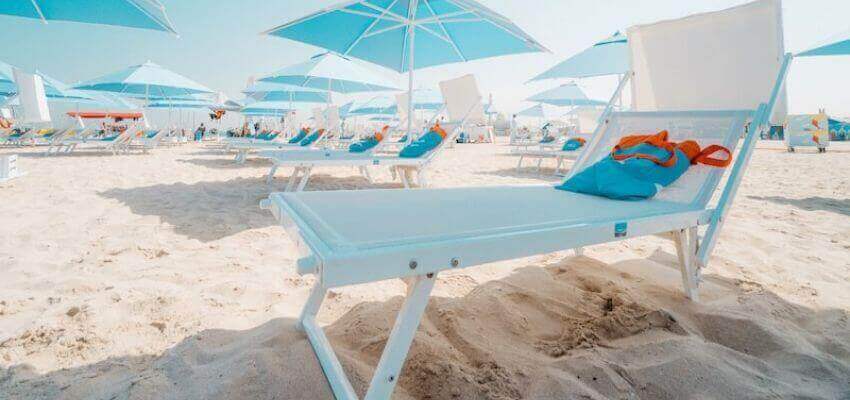 Lots of places here for volleyball or to have just fun on the beach with some watersports.
You will love the small palm trees. It's like a party fun village.
There are lots of food attractions.
It is the most beautiful public beach here in Dubai. It is great to walk on the beach with a view of the famous seven-star hotel Push Al-Arab.
you will find high-quality water sports equipment available here even a kite surfing school.
You can find here also some casual bites to eat right of the beach and the cool food trucks of pistachio ice coffee.
2. Sunset Beach, Public Beach
Sunset Beach, the people of Dubai also know this beach as Umm Suqeim beach. This is the perfect vacation spot to relax with the sun, sand and Burj Al Arab in the background.
Sunset Beach located between the Arabian Gulf and Umm Suqeim Park.
One of the calmer places near the coast. It is a beautiful area for jogging in the morning and watching the sunset across the Arabian Gulf.
You can read books on the beach's calm environment.
You can do the walking and running along the track or take a dip in the beach water.
Sunset Beach is most famous for surfing and fishing, as well as you can spot the kitesurfers perform their stunts at the nearby Kite Beach and it is one of the most affordable beaches in Dubai.
This natural white sand beach is a popular vacation spot for families.
On Sunset Beach all services are provided like washrooms, showers and changing cubicles, Smart Palms that supply free Wi-Fi.
3. The Beach, Jumeirah Beach Residence
The Jumeirah Beach residents or more commonly called JBR, it is a great beach for everyone who loves Dubai beaches, enjoys sunshine and waves.
Walking at the beach you will find hundreds of restaurants and cuisines from all over the world.
You can meet friends, families and have a meal while watching the beauty of the beach.
In the evening you can hear music around the hotels.
The beach offers a good chance for everyone to have fun on this extended white sand beach.
On the beach, you can play football, volleyball, or you can relax under a big umbrella with your family or partner and enjoy a great picnic.
The skyline around the marina is fantastic with gigantic skyscrapers reflected in the water.
It is a fantastic place to visit, take some good pictures and take selfies on beaches.
Jumeirah Beach residence was built by Dubai property at the cost of 16 billion dirhams.
You can find an apartment of one, two, three, or four bedrooms, and great space for retail and entertainment.
Jumeirah Beach residents are 1.7 kilometers of a waterfront community and considered one of the largest development in the world.
The beautiful view over the Marina Caro is known for its drinks and it doesn't disappoint after that incredible lunch.
You can go to Hilton Hotel and see the activity on the beach, you can take the parasailing ride and take to the skies.
There is the Covent Garden market that offers jewelry handcrafts and precious souvenirs.
4. La Mer, Private Dubai Beach
La Mer which means "from the sea" is a 13.5 million sq ft development that combines the best of minimalist and collective design.
With over 130 restaurants, shops and cafes and activities to choose from there are always going to be something for everybody here.
The property itself is divided into four zones. You have La Mer North, La Mer South, the beach and there are leisure and an entertainment center.
If you have kids, La Mer is a great family destination with lots of open space, cool fountains, and beaches.
Dubai's latest retail and leisure attractions La Mer just got more interesting with the opening of a beachfront waterpark called the Laguna Water Park.
It has opened right in time for summer, so all of you looking to beat the heat can now head to this 4 zoned waterpark brimming with half a dozen flumes, slides and a whole lot of wet fun.
Not to forget, the infinity pool and the Middle East's first-ever 180-degree surf park!
There's plenty to dine and shop right on the fringes of this seaside development.
Make sure you make no second plans after Laguna Water Park because you will surely while away a good few hours window shopping and beachside chilling.
5. Black Palace Beach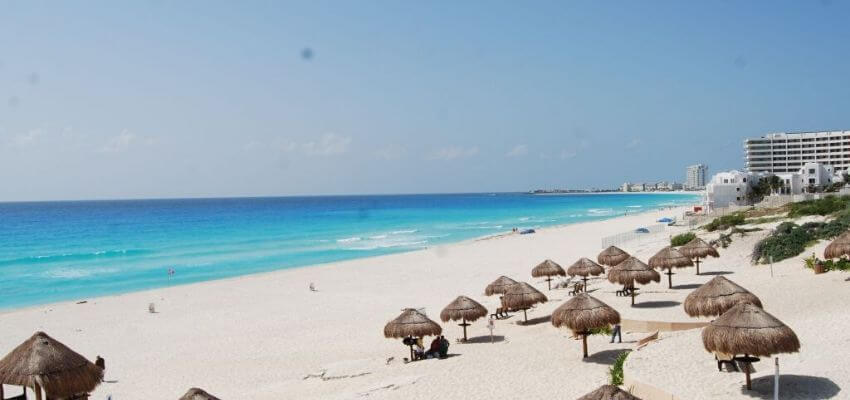 Black Palace Beach is one of Dubai's best-kept secrets, located between the royal palaces Palm Jumeirah and Burj Al Arab at Al Soufouh.
You can walk through the sandy track leading from Jumeirah Beach Road between the Royal Fortresses, and you'll find a crowded or quiet beach that's a favorite among in-the-know locals and ex-pats.
Even though the beach is known as Secret Beach or Black Palace Beach, it can be crowded during the weekends and the holiday vacations. But not crowded as much as La Mer and JBR Beaches.
If you want to visit this beach you have to remember that there will be no facilities on the beach. There are no shops or restaurants where you can eat or drink. And also no locker rooms, toilets or umbrellas.
You find the Secret Beach but you have to know some rules of this beach-
Forbidden to walk or lie topless or naked.
After sunset swimming is forbidden.
Taking pictures of other people on the beach is forbidden although you can take photos of view or yourself.
6. Riva Beach Club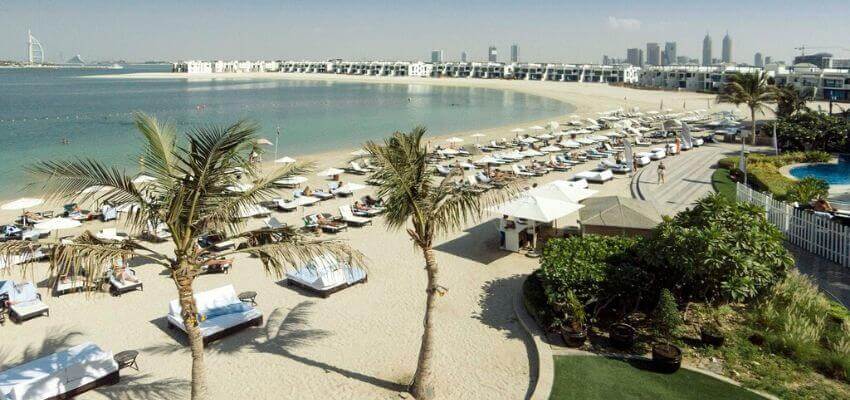 With a luxury private beachfront, a climate-controlled pool and an indoor Mediterranean restaurant The Riva Beach Club is a private beach in the list of Dubai beaches.
The Palm Jumeirah's Riva Beach Club – the first autonomous club to operate on The Palm has opened to the public after undergoing months of upgrades.
The Riva Beach Club is on the way between Buildings 7 and 8 of The Shoreline, Palm Jumeirah.
It became one of the city's most popular beach club after it started as an independent beach club in Dubai.
Riva Beach Club offers affordable day passes, which usually cover the price of drinks and other activities.
It has a new Ripe Organic Supermarket, one of its kind in Dubai, and will soon be united by a second Palm Jumeirah branch of the nail salon NBAR and a Bliss florist.
The Riva Club Offers Daily, weekly and annual passes. The adult membership pass cost is 100 Dirham per weekday for one person or 190 Dirham per weekend. A five-day pass cost is 400 Dirham and 700 Dirham for seven days. Annual membership costs 6,750 Dirham for a single adult; 11,000 Dirham for couples and 15,000 Dirham for a family.
Membership includes all the club facilities, including the beach, pool, gym facilities, towel service, and showers and a 10 percent discount on food and beverage at Riva Club.
Riva Club is a great destination for honeymoon for new married couples.
7. Al Mamzar Beach Park
Al Mamzar Beach Park is an expansive holiday beach which is perfect for families, couples, or even singles who just want to spend some time enjoying themselves out in the sun next to the ocean.
The park has a beautiful view with huge rich green gardens, pools, cycling paths, jogging tracks, a skate park, white sand beaches, and a whole lot more.
There are many restaurants and cafes offer a variety of dining options you can have the perfect day out. There's even an amphitheater where one can watch live music shows.
The park is home to green fields, along with more than 400 coconut trees; 2,000 palm trees, and more than 6,000 different types of grown plants.
You can find a variety of activities for both adults and children. While Al Mamzar Beach Park has many activities but one of its best activity is the various grilling/BBQ areas which are spread everywhere in the park. All Spots are very well maintained, and each grill area has its own flame broiler, tables, and chairs.
Al Mamzar Beach Park is one of the best places in all of Dubai for enjoying a picnic. Most people who visit the park take their supplies so they can enjoy a picnic.
Al Mamzar Beach Park has a policy in place which specifies that the park is closed for males over the age of 6 on Mondays and Wednesdays.
This rule has been put to allow women to enjoy the park in privacy.
Only boys under the age of seven are allowed to with mothers and other female family members.
8. Al Khan Beach, Sharjah
Al Khan Beach covers a 600-meter area of sand and a swimming area. The Beach has many facilities including changing rooms, showers, and toilets, as well as a small kids' playground with multiple slides.
Al Khan has been very famous for a very long time for a lot of European tourists. They enjoy the beach all year round. The Beach has not been changed for a very long time.
It is an excellent place to come for a swim. It's a great place to hang out with the family as well but there's a lot of tourists so it's not a very quiet spot especially from September onwards till March.
The Al Khan is at a prime location along the coast in the neighborhood, close to Sharjah Aquarium and Sharjah Maritime Museum.
You can rent sun loungers and umbrellas, or just enjoy a picnic on the white sand.
If you are a fan of extreme sports, you will enjoy the watersports center and surf school offering kayaking, kite surfing, parasailing, banana boat rides, flyboarding.
9. Saadiyat Beach Club, Abu Dhabi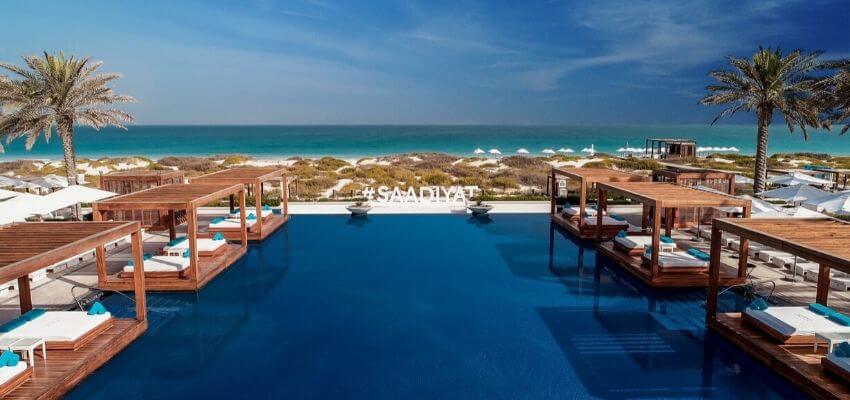 Just over an hour's drive south of Dubai, you'll find one of the most stunning private beaches.
Saadiyat Beach is located on Saadiyat Island cover with 5 miles of white sand pointing to the cerulean sea.
From the side of your sun lounger, keep an eye in the sea for dolphins and turtles in the warm waters.
Away from the white sand beach, there's a chilled pool surrounded by cabanas, a men's salon, and a state-of-the-art gym.
Saadiyat Beach is the perfect place to go for a picnic and relax. With natural beauty on the beach, you can take a cooling dip in the stunning pool.
Saadiyat Beach exclusive club offers various luxurious services including an outdoor swimming pool, a workout room, a spa, sauna and steam rooms, private cabanas and loungers set on a stunning, white sand beach.
The beach is totally private, it means there will just be you and your fellow beach club guests – and the club isn't busy usually, so you'll have plenty of spots to relax in peace on the white sand beach and in the club.
10. Nikki Beach, Private Beach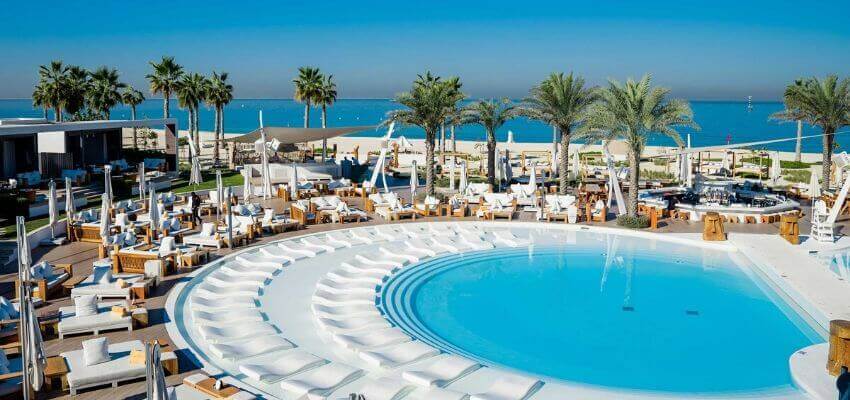 Nikki Beach Dubai located on the waterfront of Pearl Jumeira. Guests can enjoy the Arabian Gulf's blue waters and stunning views from every side of the property.
Located on the far side of Pearl Jumeira, this beach resort is home to a range of palm-fringed beach, blinding-white décor, and a turquoise pool complete with swim-up bar.
This showstopper is purely for adults, under 21s not permitted. Nikki Beach closes at 9 pm, the after-party continues in an indoor lounge located above the restaurant. After 9 pm you can find out about private beaches in Dubai.
The atmosphere is friendly, sociable but not too noisy or tacky.
The beach opens seven days a week all year round makes Nikki Beach's favorite from all Dubai beaches destinations yet.